Marriage License in Maui, Hawaii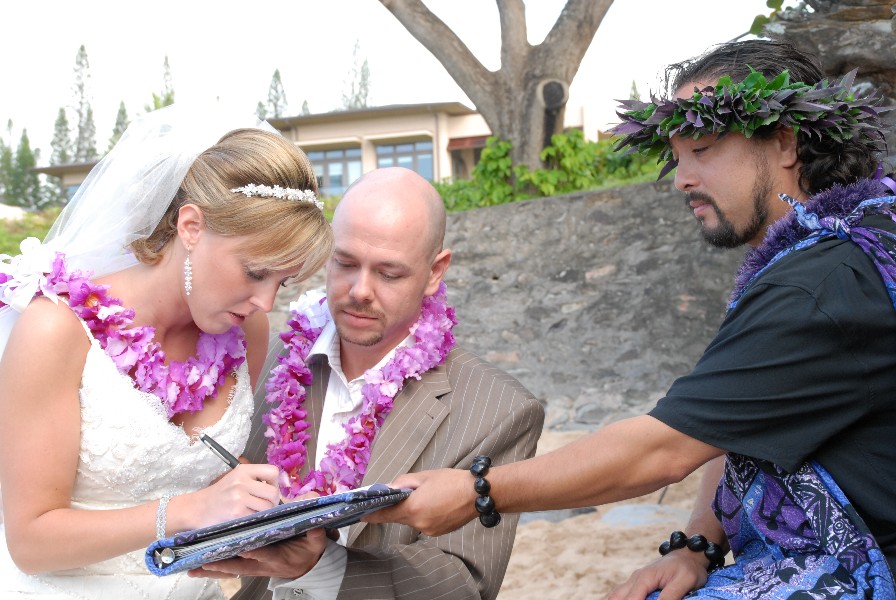 To get married in Hawaii, a Marriage License must be received before the Wedding from the Department of Health, or from one of the several Health Department Agents on Maui who are authorized to issue Marriage Licenses.
No blood tests (or divorce records) are required, only valid photo ID's and $60 cash.
Single persons 18 years of age and above may marry without parental consent. Wedding packages do not include a Marriage License, which can only be obtained by the Bride & Groom after appearing in person together to apply.
No assistance is necessary to get a Marriage License, just a simple one-page Application form (which only the Bride & Groom know the answers).
Download the Marriage License Application here:
- HAWAII MARRIAGE LICENSE APPLICATION
Call the Department of Health in Honolulu with any questions you have about getting a Marriage License in Hawaii.
Hawaii Department of Health
1250 Punchbowl St.
Honolulu, Hawaii 96813
(808) 586-4544

On KAUAI - 808-241-3498

On MAUI, contact one of these Health Dept. Agents to make a Marriage License appointment.
Cynthia (808) 875-8459 (Kihei)
Sherri Lynn (808) 661-7257 (Lahaina)
Doug 808-245-5854
You can see the Dept. of Health online at: http://www.hawaii.gov/doh/records/vr_marri.html
Please take note of three important terms and their meanings:
- Marriage License Application: A one-page form you must fill out and bring to the Department of Health (or Health Dept. Agent), along with your ID's and $60.00 processing fee (cash only), to receive your Marriage License.
- Marriage License: The Dept. of Health will give you a MARRIAGE LICENSE, which you need in order to get married in Hawaii. Bring that with you for the Minister to sign at your Wedding.
- Marriage Certificate: The Dept. of Health will mail you your official MARRIAGE CERTIFICATE after they process your Marriage License (signed by the Minister) following your Wedding.
Your official Marriage Certificate will take a few months to arrive by mail, though you may order an official copy of your Certificate by filling out the "Green Form" (Marriage Records Request). The copy arrives faster than the original. The cost is $10.00 (money order when ordering by mail, or cash in person).
*Please do not confuse your official MARRIAGE CERTIFICATE (from the State of Hawaii) with your souvenir Wedding Certificate included in many of our Wedding Packages.
Bring your IDs with you, and the $60.00 fee. Cash only.
After you receive your Marriage License, bring it with you to the Wedding Ceremony. The Minister will sign it after your Ceremony. Then he will send your completed Marriage License back to the Dept. of Health for processing.
In a few days, you may send in your Marriage Certificate Request with your $10.00 Money Order (checks not accepted) to receive an official copy of your Marriage Certificate. (Or you can wait patiently for the original to arrive.)
If you need a Wedding Minister on Maui, visit:
MAUI BEACH WEDDINGS
---
MauiBeachWedding.net
Office: (808) 924-3600
Cell: (808) 772-1140
email@bridaldreamhawaii.com