Welcome to MauiBeachWedding.net!
We would be happy to have your Wedding with us at any location on Maui. Some sites we use are Maluaka Beach in South Maui, and Ironwood Beach or Kapalua Bay in West Maui. These Wedding locations are perfect for sunset Weddings!
MALUAKA BEACH (South Maui)
IRONWOOD BEACH (Kapalua, West Maui)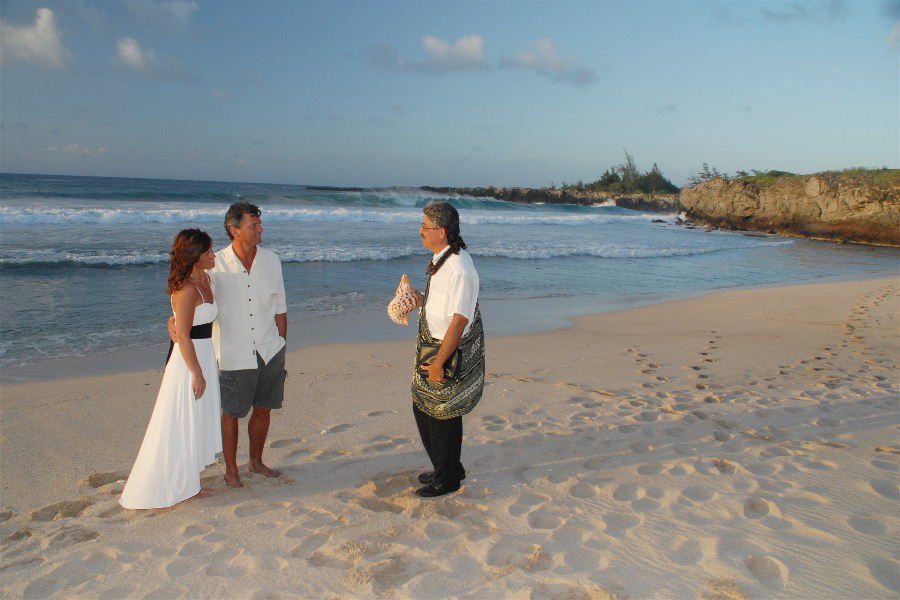 SIMPLE MAUI WEDDING
- Wedding Minister
- Souvenir Certificate
Total: $299.00
*Add Flower leis for $20 each. For Wedding photos, see our
Maui Wedding Package below.
MAUI WEDDING PACKAGE
- Wedding Minister
- Two Flower Leis
- Wedding Photo CD (70 images)
- Souvenir Wedding Certificate
South Maui: $649.00
West Maui: $699.00
This is a simple Wedding Package with all that you need for a romantic Wedding on Maui. The Minister and Photographer will meet you at Maluaka Beach in Makena, or the Wedding location of your choice. Please add $50.00 for Weddings in West Maui (Lahaina, Kaanapali, or Kapalua). Flower leis will be provided, and Wedding Photos to treasure for a lifetime!
I just wanted to thank you and your staff for a wonderful wedding. It could not have been better. It was truly a cinderella day for me. We both loved Pastor Vance, and Sean did a fantastic job on the pictures.

The CD arrived and I love every picture. Everything went smooth and I had nothing to stress about. It was amazing.

Thank you so much,
Teri & Jim


MARRIAGE LICENSE
Please apply for your Marriage License online a few weeks before your Wedding. Visit: https://marriage.ehawaii.gov
You will need to pick up your Marriage License in person and show your ID's to the Marriage License Agent on Maui. Please contact one of these Marriage License Agents to make an appointment for your Marriage License pick up time and location.
Cynthia (808) 875-8459 (Kihei)
Sherri Lynn (808) 661-7257 (Lahaina)
Doug 808-242-5854
These Marriage License Agents will give you all the Marriage License assistance you need.
See: MAUI MARRIAGE LICENSE
You may add Hair & Makeup to your Wedding Package for $200.00, and a Tropical Bouquet for $199.00.
Add Wedding Video for $499.00.
For Maui Resort & Hotel information, visit:


See recent photos on our FACEBOOK page !
For a Wedding at one of these Maui Beaches, visit:
MAUI WEDDING RESERVATIONS




MauiBeachWedding.net
Office: (808) 924-3600
Cell: (808) 772-1140
email@bridaldreamhawaii.com